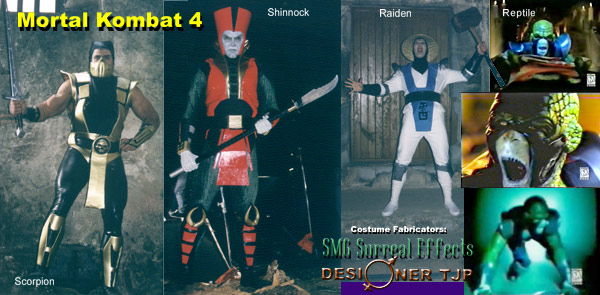 Screaming Mad George got the job to build 4 Mortal Kombat Hero Character Suits: Scorpion, Shinnock, Raiden, and Reptile. He in turn, contacted me to "get down & funky" with my Singer Sewing Machine.
Check this Clip on our M_o_r_t_a_l Kombat 4 TV Commercial spot shot way down in Mexico.
Mortal Kombat 4 Scorpion Retro Classic Suit
Hello, you now have an opportunity to order a Mortal Kombat Scorpion Retro Classic Suit. All you need is a sword and your favorite miltary boots. We have the rest. The suit is fabricated by Costume Designer TJP (Co-Fabricator of Trakeena and Divatox of Power Rangers, he helped build the Ultra-Man seen in the latest DEVO Monster Music Video). Made with painted Eva Foam, smooth black vinyl, and stretch spandex, the Sorpion Suit consists of leg shin armor, fore arm armor, chest vest armor, shorts, tassle belt, hood, and bottom face mask. Please specify a gold or yellow colorway, against the black, upon your order. Takes approx 3 weeks construction time. Sized for Medium to Large Adult Males.
Designer notes the fabric and colors may change, without notice, depending upon the availability of fabric downtown.
Send an eMail (at the bottom of the page) for Pricing and shipping details.
Category:Mortal Kombat Ermac Tag Keywords: "Scorpion, Costume, Mortal Kombat, Ninja, Warrior, Fight, Designer TJP, MK, MK4, MK character" Relevant Hashtags: #Scorpion #Hood #MortalKombat #Ninja #Warrior #Fight #DesignerTJP #MKX #MK4