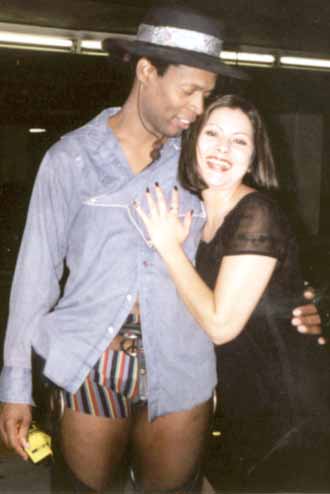 Yearning and Burning

On Fridays, I watch your lips move within inches of mine,
High on the podium in a dark hot nightclub.
But Wednesday & Thursday I dreamed your lips smoothed the curls
of hair across my chest while you whispered, "Come on Baby!"
On Fridays I sneak up onto the stage amid twirling bodies
lost in music and become myself a great force of sensuality.
You cannot resist me and we embrace.
But Monday & Tuesday I floated into your kitchen
just in time to help with the dishes or to load soap into the dishwasher.
My powerful arms squeezed your waist in a tight embrace.
I barely heard you say, "Honey, I'm about to faint!"
On Fridays I express my desires for you in your ear,
sometimes in Spanish, and always through our dance.
A favorite moment is when I walk you to your car,
protecting you from the Wolfmen and the cold night air.
But on Saturday & Sunday there's rapture in my room
as I surround myself with thoughts and look-a-like imagery of you.
On Fridays I am with you and it works.
With desire my love, give me six more days of your heart.
My dreams will become real and we will never be apart.


For Barbara, my Friday Night Dance Partner · by Tuck John Porter

Click to jump back to my Wild Prose Section.