"Today, you can fight up to six men. I'll teach you to fight six hundred men."
League of Assasins Main Villain in Batman Begins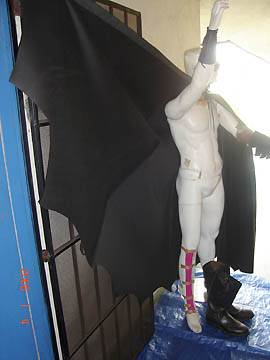 Adult Male Large 4 Panel Black Rubber Vinyl Scalloped Bat Cape
With built in "Slits" to add "Posing Sticks"!
It's time to retire that lightweight fabric kiddy cape and switch over to a full 4 panel black rubber vinyl showstopping Bat Cape sewn by Designer TJP, fabricator of the Flexible Bat Neck Accessory. This crusader cape ties off at the neck, concealed by your favorite Rubber Bat Cowl Mask. 4 stitched panels of black rubber vinyl add complete fullness (see pics) to your silhouette as you enter a costume masquerade room full of adversaries or while performing in the park in front of a bunch of awestruck kids. Back height of the rubber black vinyl cape is approximately 59" inches tall from back of neck to the floor and comfortably fits a 16 1/2" neck adult male. Anyone under 6' feet tall will be dragging scallops wherever you go. This Dark Knight Cape has built-in "slits" to add posing sticks or aluminum rods (not included). The scalloped bottom nicely finishes off your fearsome Bat Cape.
Launch yourself over the edge of fantasy and take back the night!
14.20 will ship this Scalloped Bat Cape to anywhere in the USA. International Buyers please add an additional 30.60 U.S. Dollars to the shipping cost. Canadian Buyers will pay a little less in shipping due to their Allied Proximity. Cheers!
4 Panel Black Rubber Vinyl Batcape_ 149.00 U.S.Dollars
This Black Rubber Cape is temporarily out of stock until we locate another downtown fabric vendor with that exact fabric type. You may be interested in
The awesome Vinyl 4 Panel Bat Cape made with soft black pleather vinyl instead.