"Today, you can fight up to six men. I'll teach you to fight six hundred men."
League of Assasins Main Villain in Batman Begins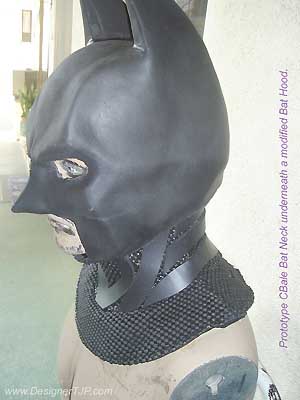 TDKR Flexible Bat Neck Accessory
TDK 2 TDKR Neck Conversion Upgrade 4 your existing "C. Bale Bat Begins" Batsuit!
Hello, we have the TDKR style Flexible Bat Neck Accessory to help upgrade your existing TDK 'Batman Begins' Batsuit to the current TDKR CBale Blockbuster Movie Batsuit version. This hybrid item cool piece design is fabricated by Designer TJP (maker of the Black Rubber-Like Batcape). The cleverly engineered "Bat Neck Piece" "sits" inder your existing Batsuit and requires you to "cut" into your existing "Bat Begins" BatCowl Head (high above the neck) to fully allow visual and flexible head movement in the neck area (see pics). Made with black foam rubber, boning material, and durable black lining, the Flexible Bat Neck Upgrade accessory fastens in the back with velcro. This neck accessory will easily fit an Adult Large Male with a neck circumference of 16.5" inches. Will also wrap around a 17" neck, but the fit will be extremely snug so please limit the time you pose in your Batsuit. Designer TJP notes you'll need to tie your Batcape differently to fully show off your new Flexible Upgrade TDKR Bat Neck (see pic).
"Get the Flexible TDKR Bat Neck Upgrade Accessory today, then turn to face your adversary!"






Designer Notes - Materials used in the Bat Neck construction are subject to change, without notice, depending on fabric availability.
9.00 will ship the Flexible Bat Neck Upgrade Accessory to anywhere in the USA. International Buyers please add an additional 14.00 U.S. Dollars to the shipping cost for International Priority Service. Canadian Buyers will pay a little less in shipping due to their Allied Proximity. Cheers!
Flexible Batneck Accessory_ 149.00 U.S.Dollars Style Number_flexbneck_071
| for Buyers in the USA | for International Buyers | for Buyers in Canada |
| --- | --- | --- |
Please allow 2 to 3 working days from time of your PayPal payment to ship out your Flexible BatNeck Upgrade Accessory . All sales are final. Ask anything on your mind before purchasing this item. Thank you.
Category: TDKR Christian Bale Style Bat Neck Keywords and Hashtags:" TDKR Bat Neck, Batman, Christian Bale, The Dark Knight Rises, Bane's Nemesis, Batman Begins, #TDKRBatNeck, #Batman, #ChristianBale, #TheDarkKnightRises, #BaneNemesis, #BatmanBegins "