Luke Skywalker Bespin Boot Straps - Universal Fit
Hello we have an awesome pair of Movie Accurate Luke Skywalker Bespin Boot Straps, extremely similar to the ones seen on Jedi Hopeful Luke Skywalker in Star Wars Classic "The Empire Strikes Back".
Fabricated by Costume Designer TJP (Co-Starring in Docu Director Dave Markey's Hollywood Super Hero Movie, The Reinactors Cosplaying as Samuel Jackson's Character Mace Windu) and Sporting a Tannish/Grey color, the straps adjust via Double D-Rings and are held in place by a firm same color Bespin Boot Strap "Spine" (see pics). The entire Bespin Boot Strap Assembly will fit over most styles of Skywalker Fan Boots. Simply "slide" your Designer TJP Bespin Boot Strap Assembly over your "Luke" Boots then tighten each of the six Double D-Ring Straps for a custom snug fit. The back "Bespin Spine" rises approx. 12" inches (30.48 cm) up your boots. Sized to fit Adult Medium to Large Males, with a Calf Leg Circumference up to 17" inches (43.18 cm). The soft feel poly cotton Bespin Boot Strap material is fully washeable.
Get your Skywalker Bespin Boot Straps today then run around loose in the woods, cosplaying with a Yoda on your back!
8.65 will ship your Skywalker Bespin Boot Straps to anywhere inside the USA. International Buyers please add an additional 14.35 to the shipping cost for International Priority Service. Please allow 2 to 3 Work Days to ship out your Bespin Boot Straps starting from your PayPal Payment. Cheers!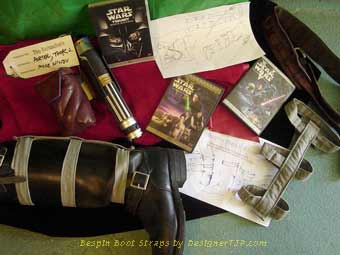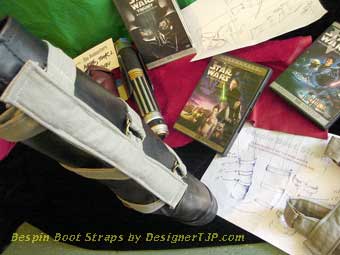 Designer notes the materials and colors used in the fabrication of the Bespin Boot Straps are subject to change depending on the availability of fabric materials downtown.
Luke Skywalker Bespin Boot Straps - Universal Fit $84.90 USD Style No_#bespbootstr_201
| for Buyers inside the USA | for International Buyers | for Canadian Buyers |
| --- | --- | --- |

2011 to the Present • Designer TJP website: http://www.DesignerTJP.com
Category: Star Wars Universal Fit Bespin Boot Straps Keywords and Hashtags:" Bespin Boot Straps, The Force, Designer TJP, Star Wars, ANH, ESB, ROTJ, Episode III, jedi knight, #Obi-Wan, #MaceWindu, #TheForce, #DesignerTJP, #StarWars, #ANH, #ESB, #ROTJ, #EpisodeIII, #jediknight, #BespinBootStraps "