"Today, you can fight up to six men. I'll teach you to fight six hundred men."
League of Assasins Main Villain in Batman Begins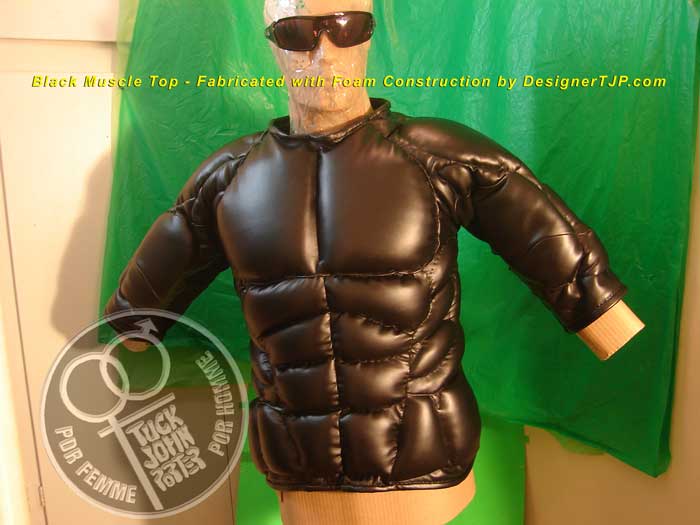 Black Muscle Top using Flexible Foam Construction Technique
Perfect for Keaton '89 Bat Armor
Hello, we have a smooth Black Muscle Top to help create or augment your existing SuperHero Suit. This top comes with full chest armor/muscles in the front, back, and on the arm biceps. The Black Vinyl matches the Designer TJP BatCape (because we're recycling left-over Black Cape Vinyl Pieces). Wear this new Muscle Top over or under your favorite bodysuit for an Alpha Male enhanced look.
The Black Vinyl Muscle Top weighs a mere fraction of a Foam Rubber Latex Top (see the quick action gif anime above). Sized to fit medium to large Adults with a chest circumference up to size 44" inches (111.8 cm), and a waist size up to 38" inches (96.52 cm). The Muscle/Armor Top is Fabricated by Designer TJP using Foam & Batting underneath Black Vinyl. The Top is highly flexible. You can definitely build an awesome "Keaton" style 1989 Batsuit with this Armor Top. The full muscle chest zips up in the back with a "self-help" Surfer lace pull cord. See the companion Muscle Leg Armor that completes a foam fabricated Muscle Suit by Designer TJP.
So Beef up, hit your next Cosplay Event, & act like you're gonna wreck the place!
Designer Notes - Exact Muscle/Armor placement and thickness subject to change without notice because each Muscle Top is custom handmade. No two are identical!
24.00 will ship this Black Chest Armor - Muscle Top to anywhere inside the USA. International Buyers please add an additional 31.25 to the shipping cost for International Priority Service. Please allow 7 work days from a PayPal Hit to Ship. Cheers!

Black Chest Armor Muscle Top_ $342.00 US Dollars Style Number_blkmuscltop_220
| for Buyers in the USA | for International Buyers | for Buyers in Canada |
| --- | --- | --- |
Category: Black Muscle Top Tags: Chest Armor Muscle Top Batman Cosplay The Dark Knight Movie Prop
---