On March 6th, 2012 during a Basketball Laker Road Game against the Detroit Pistons, The World got a momentary wide eyed glimpse of a true Superhero in Full Dress and sporting a Black Mamba Mask. It was Kobe and he was fierce. Able to leap tall Players in a single jump. Has the ability to prolong the Shot Clock into Game Overtime with a harrowing 3-pointer, at will. That eventful night, he finally revealed his Black Mamba Mask to a stunned Pro Basketball Crowd!
-NBA Fan Sports Editor
Kobe Black Mamba Mask - NBA Sports Basketball Collector Item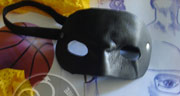 Hello, we have a Black Mamba Mask Super Slick Reproduction Piece. Fashioned after the spectacular instant hit Black Mamba Mask, Basketball Legend Kobe Bryant debuted when The Lakers went up against the Detroit Pistons on March 6th, 2012 during a Laker Road Game. Built by Costume Designer TJP (The Artist who Illustrated The Last World Tour Basketball Campaign Tee for Magic Johnson). The Black Mamba Mask is sized to fit Medium to Large Adult Males, with durable black elastic. Designer TJP Fabricated the Superhero Mask by laminating black foam vinyl over heat shaped plastic. This method allows you to achieve serious eyebrow frown lines that rival the fiercness of the Arkham Asylum Batman.
Swipe this Black Mamba Mask today, then during Basketball Cosplay, relive the moment The World saw a Real Superhero, in full costume, on the NBA Court!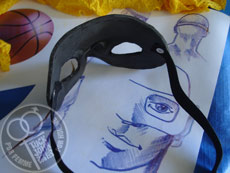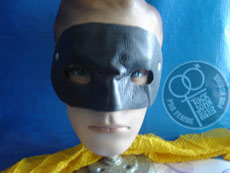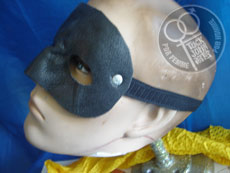 5.65 will ship the Black Mamba Mask to anywhere inside the USA. International Buyers please add an additional 11.25 U.S. Dollars to the shipping cost for International Priority Mail Service. Cheers!
Sports Collector Black Mamba Mask_ $99.00 US Dollars Style Number_blkm_mask_024
| for Buyers in the USA | for International Buyers | for Buyers in Canada |
| --- | --- | --- |
Please allow 2 to 3 working days from time of your PayPal payment to ship out your Sports Collector Black Mamba Mask.
Ask anything on your mind before purchasing this item. Thank you.
Category: NBA Basketball Tags: NBA Basketball Sports Collector Item Kobe Bryant Black Mamba Mask Fabricated by Designer TJP