The Arkham Asylum/City Batman tenacious style suit is perhaps more popular, at the moment than Christian Bale's "Dark Knight Rising" movie. Why is this so? This Political Science Editor thinks he knows. The World watched (in horror), as our Global Economy tanked into the penniless toilet barrel of emptiness. Now most Folks are at the fragile edge of their mental purse strings. Some Goons have resorted to paying their rent by robbing old ladies. Some big time department stores jack their prices twice up then do a 50% markdown sale. In L.A., we have high speed police chase "gone wild" pursuits ending in gunfire. Just awful. Jack Nicholson's Villain Joker had it right back in '89 when he said, "The whole town needs an enema!". It's truly possible, we were all looking for a hero when the Arkham Asylum Batman (AA Bat) appeared. with his Frank Miller Grimace and 24 Hour Fitness Muscles bulging thru his armor suit, this Bat is making things right in his town, while looking awesome doing it.
-- Arkham Editor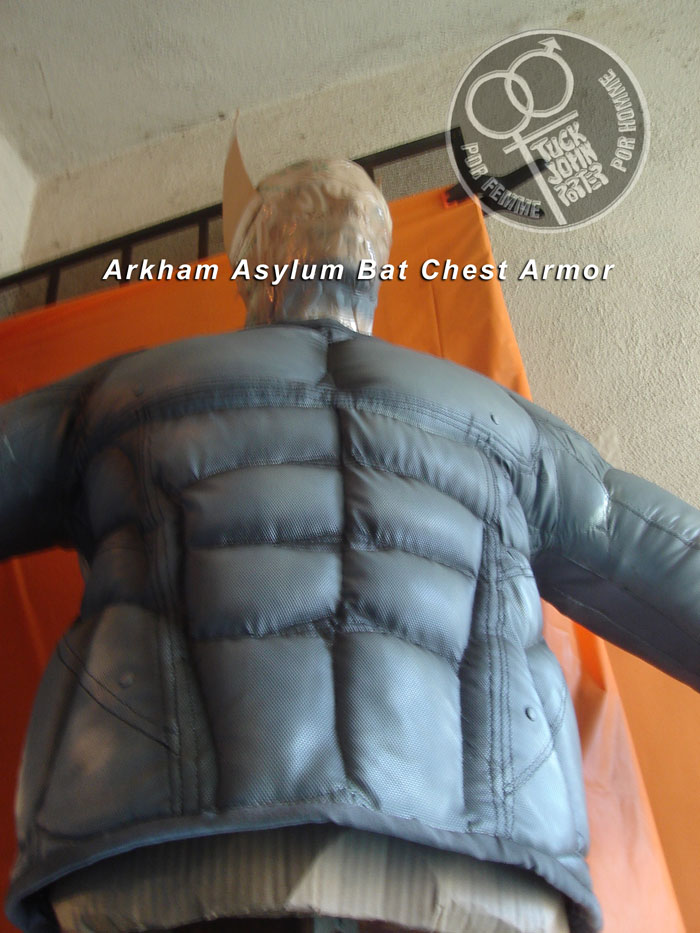 Arkham Asylum Bat Chest Armor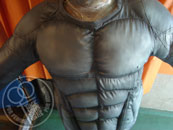 Hello we have a cool new foam constructed prototype Arkham Asylum Bat Chest Armor from Designer TJP (the dude who helped fabricate the Mortal Kombat suits, like Scorpion, seen in the MK4 Commercial). This popular video game Batman inspired chest is a hot sought after item right now. You no longer have to wait for the usual rubber latex technicians to finish building their Arkham chest molds (then still have you glue all the pieces on your costume) for this Cosplay winning "ready to wear" Crime Fighting Chest Armor. You will need to apply your own Bat Symbol. Sized to fit Medium to Large Adult Males with a chest circumference up to size 44" inches (111.8 cm), and a waist size up to 38" inches (96.52 cm). The foam construction technique places muscles on the chest front and back, and on the arms down to just above your forearms (we assume you'll be wearing your favorite Bat Gauntlets. The Muscle Top is super lightweight and extremely flexible. Made with strong Grey/Silver Vinyl and airbrushed to help "3d expand" the powerful muscles. Zips up in the back with a Surfer style pull cord.
Get your Arkham Chest Armor today then lock 'em all back up!
Arkham Asylum Chest Armor_ $384.00 US Dollars Style Number_aaches_armor_420
24.00 will ship the Arkham Asylum Bat Chest Armor to anywhere inside the USA. International Buyers please add an additional 31.25 to the shipping cost for International Priority Service. Please allow 14 work days from a PayPal Hit to Ship. Cheers!
Designer notes the Arkham Asylum Bat Chest Armor colors are subject to change without notice as each muscle top is individually handmade. No two are the exact same.
| for Buyers in the USA | for International Buyers | for Buyers in Canada |
| --- | --- | --- |

Category: Arkham Asylum Chest ArmorKeyword Tags: Chest Armor Arkham Asylum Batman Cosplay The Dark Knight Movie Prop Foam Construction
---