In Basketball, the World is watching with intense wonder. Kobe is peaking, right now with the Lakers while the rest of his team learns to get along with each other and their new coach. This L.A. Team hasn't seen a rocky season start like this in years. The revamped Clippers got version 2.0 blood pumping thru their veins with "CP" and the " B.Griffith Park Observatory" flying overhead. And just when hoop season couldn't get any more exciting, we get a slam dunk intro to a new kid in town, Jeremy Lin scoring for the New York Knicks. He finally got intorduced to Kobe, and look what happened. Looks like 2012 may see a turbulent lane change shake up or two, down the final NBA playoff stretch. Therefore Avid Action Sports Collectors need to get busy, "buying what once was." -TJP Sports News Desk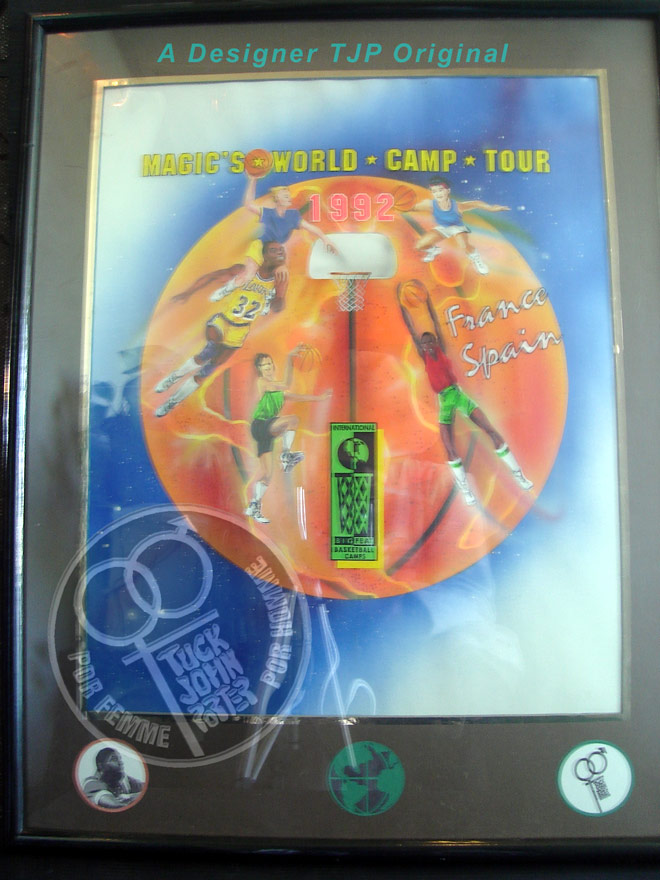 Magic Johnson 19" x 24" Framed Airbrush Acrylic & Ink Original Illustration - 1195.00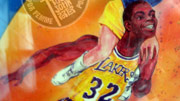 Hello we have a Framed Magic Johnson 19" x 24" Framed Airbrush Acrylic & Ink Original Illustration. The Artist, Tuck John Porter (a.k.a. Designer TJP) was contacted by Veteran Actor Dawan Scott (who was the second actor to play "Harry" the huge Big Foot Creature on Harry and the Hendersons), around 1992, to create a "magical moment in time and space" with an action sports illustration of Basketball Legend Magic Johnson in vivid color. This intuitive portrait study of Magic was originally intended as the master camera ready art for a large screenprint t-shirt campaign to facilitate Magic Johnson's '92 World Camp Tour, coordinated by Dawan Scott, scheduled to tour Spain and France. Unfortunately, the tour didn't happen after Magic announced his medical condition to the world. The original artwork is 19" x 24" (48.26 x 60.96 cm) Framed Airbrushed Acrylic & Ink on Bristol. Mr. Johnson sports a youthful look in the illustration that was executed over 17 years ago (see pics). The illustration has an acetate overlay displaying hand painted type. For the t-shirt camera ready mechanical, all type was to be typeset, and the artwork drum scanned, then color separated. Complete your Laker Basketball Sports Collection today!
| | |
| --- | --- |
Designer TJP is no stranger to intense sometimes surreal illustration work, and provides Key Art, Storyboards, and Movie Posters for the Entertainment Industry.
Free shipping inside the USA. International Buyers will pay for Priority Mail International Service. Cheers!

Category: Basketball Sports Illustration Tags: Magic Johnson, NBA, Los Angeles Lakers, Original Art, Designer TJP, Tuck John Porter